Luxury on a Budget: Affordable Upgrades for a High-End Look
After you've been in your house for a while, you may be ready for a change. You may feel like you've outgrown your current home, or you may be wishing your home had more of the high-end look you see on social media. But upgrading by selling your current house and buying another isn't always the best move. Interest rates have risen, and although the market has cooled, buying a new home isn't always easy. Instead of moving, you can opt for home improvement projects that will make your home feel high-end and give you the space you need to be happy where you are.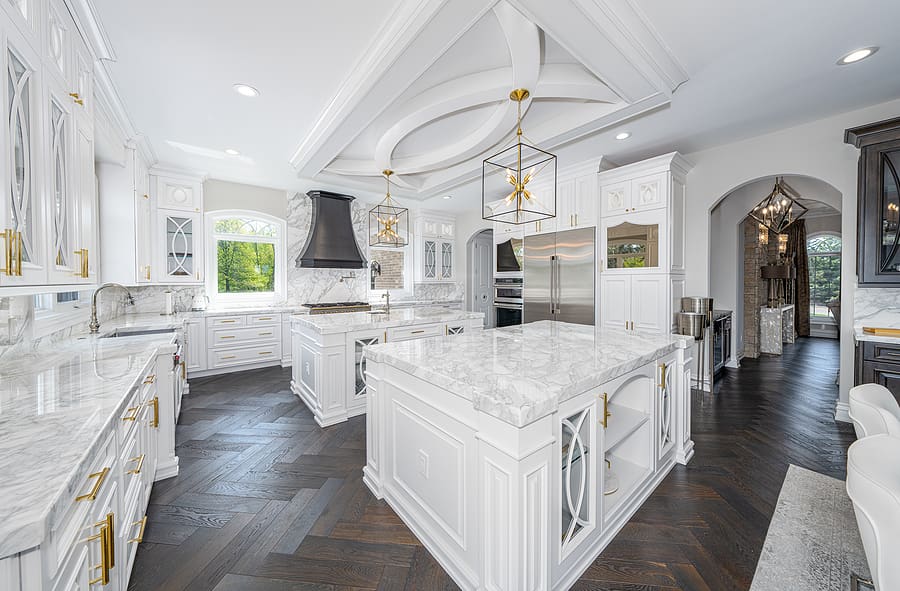 Simple Kitchen Updates
A full kitchen renovation is big, expensive, and disruptive to your family. However, you can achieve a new and fresh look by considering simple updates. Much of the disruption and expense of a kitchen renovation comes from trying to change the layout, but with a refresh on your current cabinets with painting or refacing, upgrading your countertops, or adding a backsplash, you can give your kitchen a high-end look. Adding lighting under the cabinets and opting for light colors can make your small kitchen feel open and spacious.
Simple Bathroom Updates
As in the kitchen, full bathroom renovations involving moving the plumbing can have a high price tag and displace you for weeks, but a minor bathroom renovation can turn your current space into a spa-like atmosphere with the right choices. A home improvement contractor can help you replace dated and worn-out fixtures, update your shower head for a better experience, re-caulk areas that look dingy, and upgrade your vanity. As in the kitchen, lighting can make a big difference in how open your bathroom feels, so if the natural light isn't sufficient, talk to your contractor about lighting ideas that will help the room feel bright and open.
Upgrade the Lighting
Light makes a difference when doing simple updates in the kitchen and bathroom, but upgrades throughout your home can transform a space. Upgrading builder-grade or dated light fixtures with fresh designs, replacing plastic outlet covers with upgraded designs, and opting for window treatments that allow for more natural light will make your space not only feel bigger, but more high-end.
Upgrade the Flooring
Old flooring can really make a room feel dated. If you want your home to feel high-end, look at your flooring. Hardwood floors are more affordable than many people think and will give your home an instant upgrade. If you aren't ready to replace all the flooring, one room can make a big difference. Hardwood in the living room and entryway will make a great impression. If you want to stick with carpeting in the bedrooms, consider upgrading the current carpet with a new style for a fresh look. Tile is still a timeless look in mudrooms, bathrooms, and kitchens, and a modern tile can make a big change in the overall look and feel of the space.
Finish the Attic or Basement
If you are feeling cramped in your current home and ready to take on a slightly bigger project, consider your unfinished basement or attic. This home improvement project is not one you can take on yourself, but a home improvement contractor can help you create another living space for a bedroom, office, or recreation room out of space that you might not be using to the fullest.
Add Built-Ins
Built-ins not only free up space, but can make your home feel custom designed. Freestanding furniture takes up space and makes a room feel smaller, but a built-in will become part of the room. When most people think of built-ins, they think of bookshelves, but there are many options beyond that can add to the functionality of your home. Some options include window seats in bedrooms or living spaces, built-in cubbies in the mudroom that will help contain the daily mess, and drawers under the stairs can provide much needed storage. Your home improvement contractor can help you look at your current space and find the right areas for built-ins.
When you have the right home improvement team to help you, there's no need to consider moving because you can make your home feel spacious and high-end while staying right where you are. Home improvement projects don't always need to be expensive or intensive to make your space work for your family. To learn more about how we can help you create a functional and beautiful living space, contact All-Nu Construction today!