Your siding probably has the biggest impact on your property's curb appeal out of all of your home's features. This makes sense, considering it covers the most amount of space.
Of course, aesthetic appeal isn't the only thing that your siding offers. Your siding also plays a big part in protecting your home from the elements and helping to keep cool air and heat inside the home, thereby keeping it safe and comfortable. Considering it's importance, you'll want to make sure that you repair or replace your siding if needed.
Signs Your Siding Needs to be Repaired or Replaced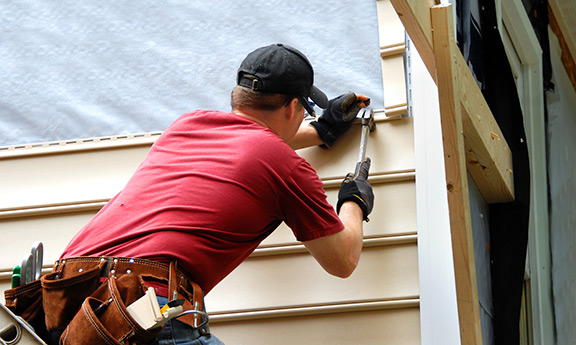 The following are some of the signs you should look for that indicate that your siding either needs to be repaired or replaced:
Your siding looks like its experienced serious wear and tear over the years and is peeling, cracking or beginning to loosen.
You have wood siding that is beginning to rot, bubble or warp. This generally means that moisture is probably getting into your home as well.
You keep having to repaint your wood siding every few years.
There are holes present in your siding. This usually means that insects have gotten into your siding.
Your energy bills are too high. While there are a number of potential reasons behind this, one factor that could be causing high heating or cooling costs is that your siding is no longer able to block heat or cold air out of your house and is unable to keep the air your HVAC system is producing in as well.
Repairing Vs. Replacing Your Siding
The following tips will help you figure out whether you can repair your siding or if it needs to be replaced:
The extent of the damage – If damage was done to a small section of siding as a result of external force, such as by debris during a storm, you can probably just repair the siding or replace that small section. This is more easily done with vinyl siding since panels can easily be removed and added without much trouble.
Paint wear and tear – If the paint is starting to fade or chip, then there's a good chance that this is the result of general wear and tear. You can probably just repaint the siding instead of replacing it.
The presence of small holes – Depending on where the small holes came from, you may be able to just patch them up using caulking. However, holes caused by insects may mean there more damage has been done below the surface.
A reputable siding contractor will be able to do a thorough inspection of your siding to determine what the best course of action will be.
How to Choose a Siding Contractor
Don't just go with the first siding contractor you find — or the one that offers the cheapest services. Poor quality repairs or replacement can result in siding that's more vulnerable to damage and will end up costing, even more, to repair or replace in the future. The following are a few tips for finding the right siding contractor:
Read online customer reviews.
Look for an experienced contractor.
Choose a contractor familiar with the type of siding you have.
Make sure they're fully licensed and insured.
Make sure they do their work in-house.
Choosing All-Nu Construction
Here at All-Nu Construction, we are a fully licensed, bonded and insured roofing company that has spent two decades building a reputation for high-quality work and exceptional customer service throughout the Toledo area. For more information about our siding services, contact us at All-Nu Construction in Toledo, OH, today.