Bathroom Remodeling Toledo, Ohio
When it comes to home improvements, the bathroom is often overlooked, even though it's one of the most used spaces in the home.
In fact, it's also one of the spaces that can often benefit most from a remodel.

Reasons for Bathroom Remodel
The following are a few signs that you might want to consider investing in a new bathroom remodel:
The bathroom is cramped – A cramped bathroom is an uncomfortable bathroom. There are plenty of things you can do to increase space, such as by replacing your large counters with pedestal sinks or replacing your bathtub with a shower.
You want to add more features – There's no reason why you can't remodel your bathroom simply because you want it to do more for you. Maybe you'd prefer to have two sinks instead of one. Maybe you'd like to have a Jacuzzi bath. There are plenty of features that you can add that will allow you to get more out of your bathroom space.
The bathroom is constantly disorganized – This is often the result of a lack of storage space. Adding cabinets or shelving can go a long way to solving this problem.
The look is outdated – Older bathrooms may have a few design choices that simply don't hold up. For example, if that pink bathtub is becoming a bit too much of an eyesore, you might want to do something about it.
Benefits of Bathroom Remodel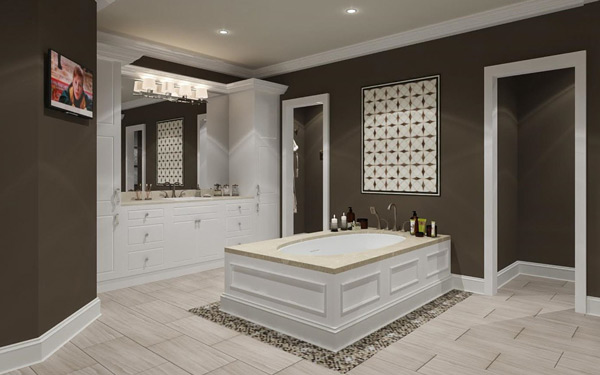 There are a countless number of benefits to investing in a bathroom remodel in Toledo, Ohio. The following are just a few reasons that you should consider remodeling your bathroom:
Increase your home value – Outside of the kitchen, remodeling the bathroom has been proven to provide one of the best returns on investment. The bathroom design will often have a big impact on homebuyers decision to make an offer as well if you ever decide to put your house up for sale.
Save money – Installing more energy-efficient lighting and water-efficient faucets and toilets can help to greatly reduce your home's energy and water bills.
Improve safety – A remodel can help make the bathroom more accessible and safe to use, especially for children and older adults who may have physical limitations. For example, you could replace your bathtub with a walk-in shower and install grab bars.
Make your space more relaxing – A bathroom is a place where you should feel comfortable. You can greatly improve the comfort of your bathroom through numerous renovations, whether it's by choosing a different color scheme, making it more spacious or by changing the lighting so that it's less harsh.
How to Identify a Reputable Bathroom Remodel Company in Toledo, Ohio
The last thing you'll want to do is to end up with a shoddy bathroom remodel as a result of working with a poor quality remodeler. The following are a few tips for finding a reputable bathroom remodeler in Toledo:
Make sure the contractor is completely licensed and insured.
Look at online customer reviews.
Check reputation with the Better Business Bureau.
Look for a remodeler with more than just a few years experience.
Compare bids and avoid contractors whose services are significantly cheaper than others.
The All-Nu Difference
We have provided homeowners throughout Toledo with the best remodeling services in the area since 1996. Since that time, we have fostered a stellar reputation for our high-quality bathroom renovations and our exceptional customer service.
We strive to maintain this reputation by working closely with each individual client to make sure we meet all of our their individual goals and needs.
For more information about our bathroom remodeling services, contact us at All-Nu Construction today.