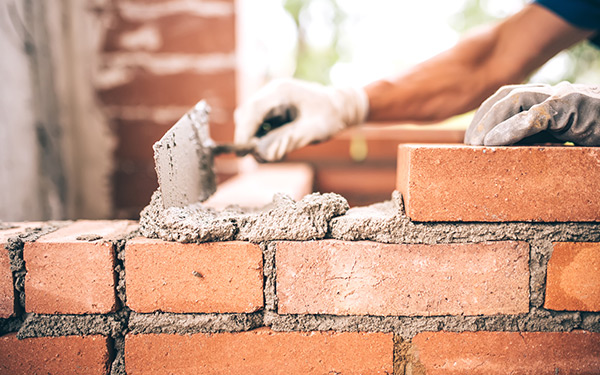 There are a wide variety of projects which require concrete masonry, a highly specialized service. A well crafted curb or walkway can add a great deal of aesthetic appeal and convenience to your business or home.  Whether you require a small touch up job or are looking to complete a more major project, consider All-Nu Construction. Our expert masons will work one-on-one with you to ensure that your masonry project is perfectly carried out every single time. We can perform:
Porch Repairs: Even the finest hardscape will fade in time. Porches, generally made of wood, are exposed to the elements every day, and as such rain, snow and other precipitation can eventually take quite a toll. If excessive moisture is allow to reach your porch's joints they can rot, compromising the integrity of the entire hardscape. Regardless of what kind of damage has been done to your porch, whether that damage is minimal or extensive, All-Nu can help.
Room Additions: Do you wish you had another bedroom or bathroom for guests, a library or study to work and relax in, additional space for entertaining? Wish no longer. All-Nu can add a beautiful new room to your home, one which can fill any role you'd like. Together, we can turn your house into your ideal living space today.
Brick, Block and Real and Cultured Stone Setting: There are a great many ways that bricks, blocks and stones can improve your home. Build a beautiful walkway through your yard, construct a rustic and elegant wall around your property or improve your front entryway. You can even use these materials simply as decoration. Whatever you choose to use them for, these materials are beautiful, and we know how to handle them.
Glass Block Window Installation: Beautiful and effective in equal measure, glass block windows are a fantastic way to retain privacy while still allowing in plenty of light. They're extremely energy efficient products and have a very unique aesthetic.
Masonry Cleaning, Powerwashing and Sealing: With any type of masonry project regular cleaning is very important to preserve both the look and the structural integrity of the project. All-Nu can help you clean and seal your masonry projects effectively to guarantee their effectiveness and beauty.
So if you have a masonry project in the works, no matter how small or large it might be, contact All-Nu for a fair price, expert workmanship, efficiency and a promise to work collaboratively with you every step of the way. You won't find a higher standard of quality than the one we carry with us at all times.