Basement Remodeling Toledo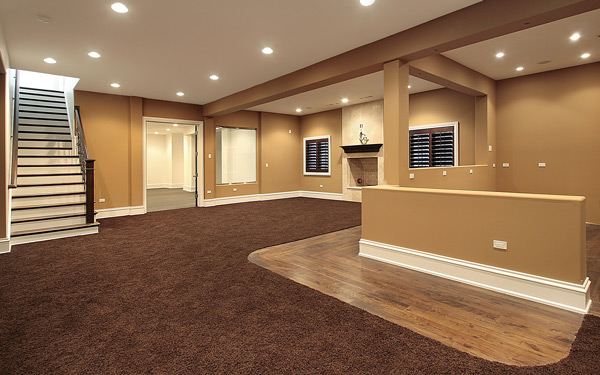 Basements often cover a large area of space, yet surprisingly, many homeowners don't make that much use of it. For many, the basement is a makeshift storage space.
If this is the case for you, then you're not getting nearly as much use out of your basement as you could be getting. Remodeling your basement can help to change that.
Reasons to Remodel Your Basement
The following are a few reasons why you might want to remodel your basement:
The basement is unfinished – Unfinished basements are often in poor condition simply because they've been neglected. If your basement has concrete floors and exposed walls, then a major remodel is probably in order. This probably means that it's also poorly insulated and full of leaks, which is why basements are often colder than other parts of the house and full of moisture, which can lead to mold growth.
You need extra space – If you're in need of an extra room, such as a guest bedroom, an office or even an additional entertaining room, then you can turn your basement into whatever type of room you need — all without having to build onto your house.
Save money – It costs a lot less to remodel your basement instead of building on to your house. In some cases, building home additions may not even be possible due to your local building code restrictions.
You need peace and quiet – If you have a full household, then it can be difficult to find some peace and quiet in the home. The basement is perfect because it's secluded from the rest of the house. It's one of the reasons basements are often turned into home theater rooms or offices due to a lack of noise intrusion.
The Benefits of Remodeling Your Basement
The following are a few of the benefits you can enjoy as a result of a new basement remodel:
High ROI – Along with kitchen and bathroom renovations, basement remodels provide the highest ROI (return on investment) of any area of the house.
Reduce energy costs – Adding insulation as part of your remodel can help to cut down on costly heating and cooling bills.
Get more use out of your basement – The biggest benefit of all is that you're no longer wasting valuable space. Your basement can be used for so many different functions other than just a cold storage space.
How to Find a Basement Contractor
You don't want to end up overpaying for shoddy work, which means that you should be careful about choosing who you work with. The following are a few tips for choosing a reputable basement contractor:
Make sure they're licensed – Without a license, there's no assurance that they have the required expertise to do the job right.
Make sure they're fully insured – You'll want to make sure they're covered in case any damage or injuries occur on your property.
Check reputation – Look at online reviews on sites like Angie's List or even Yelp. You can also check for customer complaints on the Better Business Bureau website.
Look for experience – The more experienced they are, the better a job they're likely to do.
The All-Nu Difference
We are a fully licensed and insured contractor with a reputation as one of the best and most reliable basement remodelers in the Toledo area.
We strive to ensure that each customer is 100 percent satisfied with our work, which is why we make it a point to work closely with every client to meet their specific needs.
Be sure to request a free estimate by contacting us at All-Nu Construction today.