Toledo Roofing Repair and Home Improvement Experts
Offering Excellent Home Improvement Services at Competitive Prices!
Finding a good general contractor can become intimidating. There are many horror stories out there, and you don't want to be a part of the next one. Understanding these 5 points will greatly improve your chances of finding the right company to work on your house.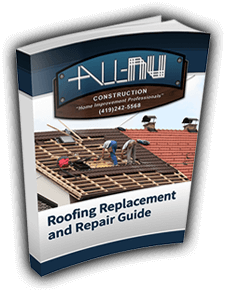 Do You Know the Condition of Your Roof?
All roofs degrade over time. Unfortunately, most homeowners don't notice the early signs of roof damage. This guide will provide you with the proper understanding of the types of roofing materials, signs of wear, and cost involved. Don't miss out!
Fully Bonded Licensed and Insured
"I want to express how appreciative we are of the excellent workmanship and service that Tibaron Condo Association #27 received from All-Nu Construction. We were impressed from the immediate response. You showed up the same day to inspect the damage and took the time to construct a complete and thorough proposal detailing the amount of work and materials for the job – we have never received anything like that from contractors we have used before. Your support and involvement during the time of the attempt to file insurance was so very much appreciated – that was 'above and beyond.' You were always easily accessible to answer any questions – the customer service was outstanding. I must add that everyone that I spoke with at the company was friendly and helpful and the crew that worked on our condos were meticulous in their workmanship and clean up afterwards – you have exceptional employees! All-Nu is the BEST the best toledo roofing company. Thank you so much!"
~ Carol A. Stamm