The Real Value of Bathroom Home Improvements
Home improvements are always an investment, and certain rooms, like bathrooms, can come at what feels like a high cost for such a small space. However, when you consider the real value of a bathroom renovation, you will see it for what it is: an investment. Bathrooms are high traffic rooms that will get a lot of use. A newly remodeled bathroom will be more efficient, a clean and inviting space, AND the renovation will add value to your home.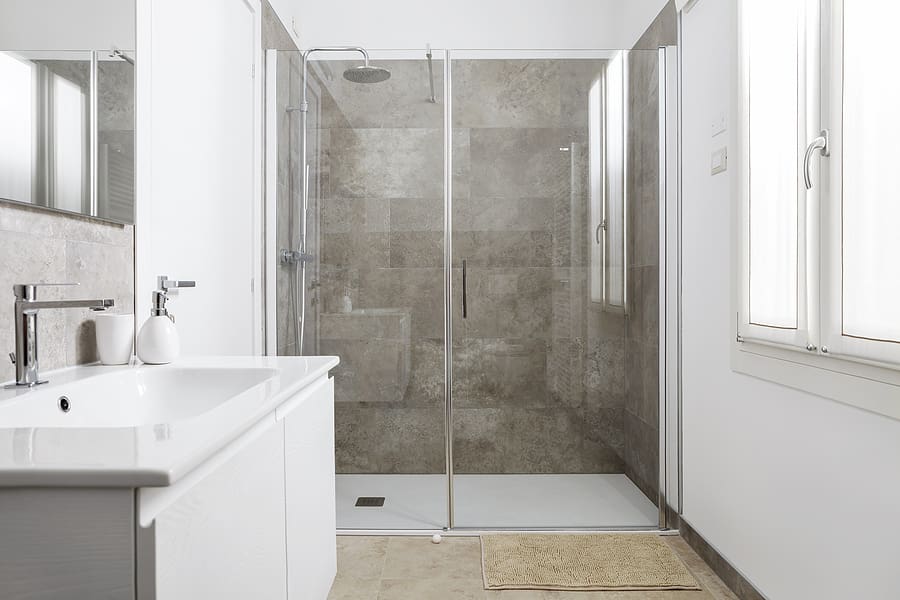 New Fixtures are More Efficient
The older your fixtures, the less efficient they likely are. Older toilets and faucets waste water, and outdated lighting and heating elements can drive up utility costs. The bathroom can be one of the least efficient rooms in your house before you begin home improvements. Energy efficiency should be a primary concern for any homeowner. Not only will this save you on the cost of utilities, but you will also be contributing to environmental sustainability. When you are planning bathroom home improvements, be sure to factor the savings of increased efficiency as part of the total increased value of the improvement. Many homeowners find their water and electric bills drop significantly after a bathroom remodel.
Enhance Your Functionality
Most older or builder-grade bathrooms lack sufficient storage and have only basic functionality. A bathroom remodel can address all of these concerns with a well-planned design. Bathrooms do generally have a smaller footprint, but with thoughtful planning you can maximize the use of the space, which will allow for a better layout, flow, and plenty of storage. Once you've experienced the increased functionality of a bathroom renovation, you will feel the value in the remodel.
High-Traffic Rooms are Worth the Investment
Your home's bathroom may be a small room, but it is one of the most high-traffic rooms in your home, and deserves the investment to make the room exactly what you need it to be. You will be making use of the room every day, so it is very beneficial to make it a relaxing retreat. With a renovated bathroom, you can elevate your daily routine. Creating an atmosphere that relaxes, energizing, and uplifts you is well worth the investment. Many homeowners benefit by thinking of a bathroom remodel cost by how often they will use the room and take advantage of the upgraded features and functionality.
Bathroom Renovations DO Increase Home Value
From a purely financial and real estate standpoint, there is value in a bathroom remodel. Investing in a bathroom renovation will increase the property value of your home. Kitchens and bathrooms sell houses, and when potential buyers see a recently renovated bathroom, they are often willing to pay a higher price. Not only will the market value of your home increase, but the appeal and interest in your home will increase as well, leading to higher and even multiple offers for you to consider. A beautiful, elegant, and functional bathroom space, especially for an en suite connected to the primary bedroom, will draw buyers in. A bathroom renovation will often provide a high return on investment and give you a competitive edge when selling your home.
Investment Value v. Comfort Value
When looking for the ROI (return on investment) on a bathroom remodel, remember that those numbers are focused on whether or not you are planning to sell your home shortly after the renovation, and takes very few other factors into consideration. When you are considering a bathroom remodeling project, don't only worry about adding to the value of your home, especially if you aren't planning to sell. While a bathroom renovation will increase the value of your home, think of it as investing in your comfort and overall enjoyment of the home, which is just as valuable if you are planning to stay. With the bathroom being a high-traffic room, increasing the comfort value should be just as important to you.
Best Bathroom Renovations to Add Value
While any bathroom renovations will add value, there are some that will give you the best return.
Increased Storage: a bathroom renovation that adds not only necessary, but ample storage is a great use of your investment. Many older style bathrooms are lacking in storage. A good bathroom contractor can help you design a space that makes the best use of everything in the room to maximize storage.
Efficient Design: If the room doesn't flow well, you will never feel settled. Although changing the footprint of a bathroom can increase the cost, it will greatly enhance your comfort.
Updated Fixtures: updating fixtures can be a less expensive option that will still make a big impact on the overall renovation. Clean, modern, and efficient faucets, showerheads, and toilets will give your bathroom a high-end look and will function much better than older fixtures while still saving on energy costs.
Lighting: Having options for different styles of lighting can help you wake up in the morning and look your best, and wind down in the evening with a flattering glow. Your contractor can help you find the best lighting options to work for every need, even if the natural lighting options are limited.
High-end Flooring: the flooring you choose can make a big difference. Look for a flooring option that is designed to be in a high-traffic space, water-resistant, and easy to maintain. For added luxury, consider adding a heated subfloor to make your bathroom remodeling project feel truly luxurious.
Whether you are planning to sell your home or not, a bathroom renovation will add value to your home. The increased efficiency, functionality, and comfort are well worth the time, money, and effort you will put into the renovation. For the best results, find an experienced bathroom contractor who can help you plan and design to ensure your return on investment is maximized. To learn more about how we can create a modern bathroom your family will love, contact All-Nu Construction right away.