Is Your Gutter Apron Missing In Action?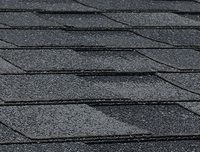 Does your gutter seem to be a waste of money by collecting very little to no rainwater at all? If your answer is yes, then a gutter apron is definitely missing in action. A gutter apron is a specialized drip edge design meant to direct rainwater directly into the gutter.
The apron is normally installed over the roof edge, while folded at about 120 degrees, and hangs into the gutter.
What Is A Gutter Apron
A gutter system that does not catch any rainwater is more susceptible to rotting soffits, molding siding and ultimately a damaged structure. A damaged or missing gutter apron could mean a costly roofing repair. It is highly important to ensure that rainwater flows freely into the gutter. Most roofing contractors and roofing companies prefer to or rather will recommend the use of gutter aprons for this purpose.
Besides protecting the gutter from rot, molding, and damage, the gutter apron also ensures that no water gets behind the gutter. It is extremely useful especially when roof shingles do not extend far out enough in order to direct rainwater into the gutter. Roof replacements may be needing when roofing shingles are damaged beyond repair.
How to install a gutter apron
There are only two steps involved:
The top section is first slipped below the starter shingle course, which is a layer just above the sheathing.
The apron is then fastened by carefully lifting the shingles and having them attached by use of roofing nails.
It is important to note that flat tar or membrane roofing, tile shingles, and slate cannot be lifted, and gutter aprons should preferably be installed when a new roof is being installed. However, if you do not have one, a roofing services contractor can assist you in installing one on your roof.
A do it your self gutter apron installation might seem easy and the better option, especially if you are tight on finances, but it is highly advisable to seek a licensed professional roofing contractor with the proper tools and equipment for the job.
When looking for a reputable roofing company, consider the following;
Read consumer reviews. Whether you have a few companies in mind or opting to research online for a roofing contractor near you, it is always important to read their clientele feedback first. Always opt for roofing companies with a long list of satisfied clients.
Request for a quote. After narrowing down your options, the next step is to ask for a written quote. It might seem to be quite a hustle but it is the best way to shop for the best and most pocket-friendly deal for you.
Ask for proof of insurance. This might come across as a trivial thing, but it is important. In case of any accidents or damages that may occur during the apron installation, the company's insurance should be able to cover it. A quality roofing company will not hesitate to provide this information.
Whether you are looking to have your roof replaced with a new gutter apron system or already have a non-functioning gutter installed, it is time to think about repairing or replacing your gutter apron. Contact All Nu Construction in Toledo, Ohio to consult on what roofing repairs you might need for your roof. Customer satisfaction is guaranteed.