Add More Living Space with a Basement Renovation
One of the best investments you can make when you remodel your home is finishing your basement. Not only will you enjoy more living space for your family, but you can expect a return of up to 75% of your investment in resale value. A finished basement can be a beautifully designed area that creates efficient storage and allows your family more living space to enjoy.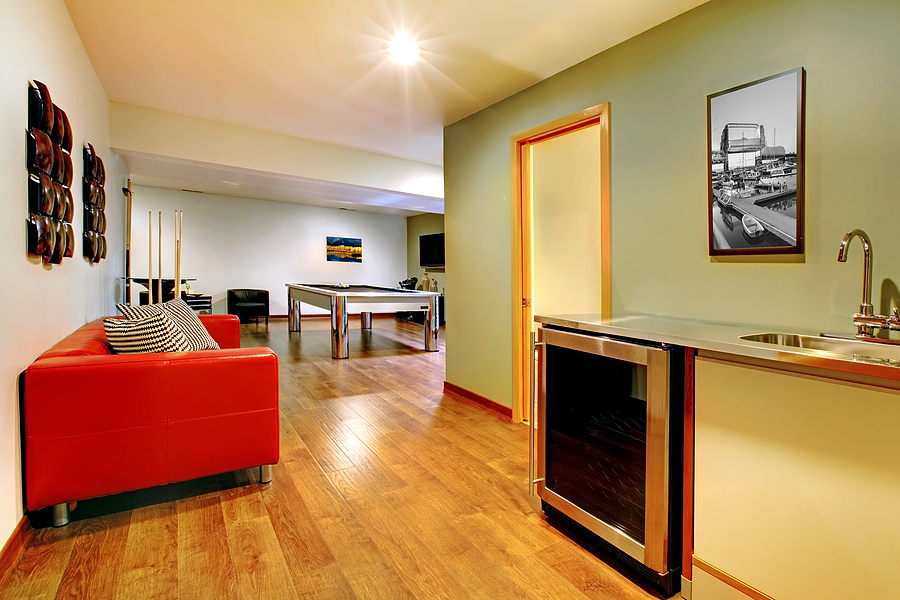 Using Your Basement to Add Living Space
When you remodel your home and plan to finish the basement, you will add plenty of living space to your home. You'll have the opportunity to design this space from the ground up, and there are many options for how to use your basement once it's finished. Some homeowners like to break the space into distinct areas, while others enjoy an open concept space. Your finished basement can be a guest suite, a home office, a home theater, a home gym, a playroom, a game room, and more. With the right configuration, even adding a kitchen or bathroom is possible.
Consider the Space When You Remodel Your Home
There are considerations to be made when finishing your basement. One of the most important things to know when you remodel your home and finish the basement is that your basement will still need to be a utilitarian area. Your furnace, hot water heater, electrical panels, and more will still need dedicated and accessible space, and you may still need to use at least a portion of your basement for storage. When you begin to remodel, consider the utility first. Make sure that you leave a space you may need for storage and can access everything you may need to quickly. Once you've planned out the spaces that will need to remain utilitarian, you can then begin to plan the finished space. You can create a game and bar area, a home office, an exercise area, and a playroom all in one space, simply by placing lighting fixtures and area rugs to define each area.
Use a Contractor to Finish Your Basement
When you remodel your home, you may be tempted to try and cut costs. The basement is not the place to do that. With all the structural concerns, foundation work, framework, ductwork, electrical work, waterproofing, and plumbing to work around, a contractor is essential for this kind of project. You need someone with the experience and tools needed to finish this project efficiently. If you don't use someone with experience, you may end up with frigid temperatures, water damage, or worse. Your contractor can ensure that you will have the right specialists for every piece of the job and they'll make sure the job is done safely, from the stairs, to the egress, to radon, and more.
Finishing your basement is a great way to add space for the whole family when you remodel your home. You can create the area you need, know you've made a solid investment in your home, and, when you use the right contractor, you'll know that the space is safe, solid, and secure. If you're thinking about finishing your basement, call All-Nu Construction with any questions. We'd love to help guide you through your options. We've been helping homeowners just like you increase their living space with a basement renovation, so let's turn that forgotten space into something great.