Which Material is Right for Your Home's New Siding?
The process of selecting the best siding for a home can be challenging because some materials will crack in cold and warm weather. Also, if the material is constructed poorly, it will not handle 150-mph winds well. However, if you shop carefully, you can easily choose a material that will protect and enhance your home in Toledo OH.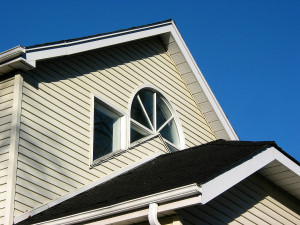 Plastic
Plastic siding and cedar shingles have the same unique characteristics. Although material is somewhat thick, it is easy to maintain and clean. Plastic resists cold weather very efficiently, so many manufacturers sell plastic shingles at a high price.
Fiber-Cement
Fiber-cement can withstand high heat and insect damage. However, rain will ruin the material if it constantly freezes and thaws before the paint degrades. At most stores, you will find fiber-cement shingles that are already primed.
A fiber-cement material that has a wood-grain finish is very popular because it can fit on most existing buildings. If you prefer a more unique option, consider shingles that have soffit panels or vertical grooves.
Acrylic paint adheres well on fiber-cement siding, so you can easily change the color on the material on a later date. Frequent maintenance will not be needed because the paint will not blister or peel after it dries.
Wood
Wood material is very classic, but it can easily twist, warp, or burn. Also, during the spring and summer, woodpeckers and insects may damage any areas that are rotten. Wood material is sold with or without paint. However, if the wood is stained or painted, you must refinish the material often.
Wood material is available in various colors, styles, and finishes. The most common options are:
Clapboard
Plywood
Shingles
Shakes
Solid wood
Clapboards never overlap because technicians install the boards horizontally. Many homeowners buy cedar since it never decays.
Plywood is made out of Douglas fir, cedar, or pine. It can be installed horizontally or vertically.
Shingles are processed in a machine; various blades cut the sheets in ideal sizes. Shingles are usually made of cypress wood or cedar wood.
Shakes and shingles are installed the same way. However, shakes are hand-split and are sold in various sizes.
Solid wood is very popular because installers can apply the material diagonally, horizontally, or vertically.
The Features
If you choose specific features, you can improve the durability and appearance of the shingles.
Deep Profile
Shingles with a deep profile have raised surfaces, which give a home unique lines. This feature makes the shingles look like wood because the surfaces have a rigid appearance.
Double-Hem
Shingles that have a dual-layer mounting hem can withstand high winds better than materials that have a single-layer hem. This is possible because double-hem shingles have a stronger attachment.
Extra-Long Panels
If you need shingles that do not use a lot of seams, consider a material that is at least 16-foot long.
Foam Backing
In cold climates, foam backing can provide additional insulation throughout the home.
If you need help tackling a project in Toledo OH, contact the nearest contracting/home improvement company.