Which Type of Shingle is Right for Your Roof?
To maximize the appearance of your home, you must have the 'right' type of roof shingle. This not only applies to the material, but also the style, shape, the period and the color of the shingle. There are many aspects to consider when replacing shingles. As professional roofers in the Toledo OH area, we have experience in knowing the perfect shingle for your home.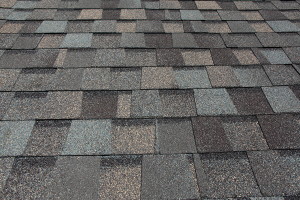 Types of Materials
Asphalt. The basic asphalt roof shingle is relatively inexpensive and comes with a 20-30 year lifespan. Although they tend to be thinner, advances have been made to improve their energy ratings. Energy Star rebates may be available.
Tile. Tile roof shingles are another of the most durable materials that can be used. They work well in areas with harsh temperatures. Recent advances have reduced their weight so reinforcing a roof is no longer necessary.
Wood. Also called 'Shake', wood shingles have a desirable, distinctive appearance. Although more expensive other options, many homeowners feel the improved appearance is worth the extra cost. There is a little more care needed with wood shingles, and they endure best in climates with moderate temperature variations.
Slate. Slate shingles are one of the most durable and expensive shingles you can install on a home. They can last from 80 to 100 years. You must have a solid structure because the shingles are extremely heavy. One concern may be if a repair to your roof is needed, slate installers are not as common as they once were.
Solar. A recent advance in the shingle industry is the use of solar shingles. They provide the protection of other shingles, but also generate energy which can be harnessed for the home. It is worth asking if your installer is familiar with this option.
Style of Home
When deciding on new roof shingles, the age and style of your home should be a prime consideration. Putting the wrong period roof on your home can provide a disjointed appearance. You do not want to put a slate roof on a contemporary home. This is where the knowledge of an experienced roofer can offer assistance. We are familiar with the housing styles in Toledo OH and can guide you to the perfect complimenting roof for your home.
Other Considerations
Before you make your final decision on roof shingle replacements, discuss these items as well with your roofer. Are you removing the old or adding an additional layer? Will the weight of the shingles be an issue? Your existing roof may need reinforced prior to adding the weight.
Regional temperatures affect the durability of the shingles. Be sure to install the appropriate material to receive the longest life from your investment. You energy costs can also be affected if using the wrong style of shingle.
One final consideration is the color of shingles used. Be sure to compliment the color of your home, not fight it. Lighter color shingles tend to reflect more sunlight and are therefore, tend to be cooler.
Call All-Nu Construction today and start the process of remodeling, renovating and improving your home. Find us online at www.all-nuconstruction.com/, visit us in Toledo, OH at 5465 Enterprise Boulevard or call us at (419) 242-5568.