Which Roofing Material Stands Up Best to Spring Storms?
Living in Toledo OH has its advantages and disadvantages. While Lake Erie is a great place to visit in the summer, lake effect precipitation can be disastrous. While the area really doesn't fight hurricanes, there are plenty of thunderstorms and the occasional tornado to deal with. When these strong storms blow in, they bring with them hail and damaging winds. Will your roof hold up to the next spring storm? There are basically three types of roofs that are seen in the area: asphalt shingles, tile, and metal. The most commonly seen roof in Toledo is the asphalt- shingle style. How do they each of these roofs stack up in a storm?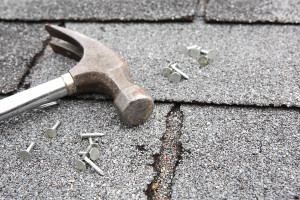 Shingles
Shingles are pretty resistant to blowing off the roof, but they are more likely to be damaged by flying debris. They are easily punctured from tree branches and other items blowing by. They maintain their position pretty well during a storm, except when they have been punctured. The only problem is if the wind is able to get into the cuts, if it can get into any openings it can pull the shingle off the roof and it will blow away. These roofs are designed for uplift pressure and if there is a nail loose, it can cause a ripple effect. If no puncture occurs, the roof should stay in place. Thankfully, one area can be repaired if damaged and the whole roof may not be a loss.
Metal Roofing
Metal roofs are all the rage. Those funky trapezoidal seams are good performers in strong storms. Testing shows that in a storm these roofs are most likely to have the ridge caps lost or a hip was torn loose. The panels don't really move, but in the rare case that they did; it was in areas where there were seems. These seams tend to cause some panels to rock and then they loosen themselves. This allows water to get under the panels and eventually into the home. In general, these are one of the strongest roofing systems around.
Tile
Though, they are not really that popular around here, the occasional home will have the Spanish tile roof. These tiles are very expensive and heavy, which is good in a storm. Tile roofs can take winds up to 125 mph. These winds would destroy other roofs, but they are able to withstand great pressure. They are not as affected by hail as the typical asphalt shingles or dented like metal. They are considered a great option for those who fear the occasional tornado in the area, or want extra protection.
No matter what roof your Toledo OH home has, the important thing is to make sure it is safe. Having your roof inspected is not a bad idea. Identifying any weak areas before they become an issue is wise. Water leaks can go from the size of a pin-hole to a massive downpour in a matter of minutes. Since this area is known for lake-effect snow and plenty of precipitation, having a great roof is imperative.
Call All-Nu Construction today and start the process of remodeling, renovating and improving your home. Find us online at www.all-nuconstruction.com/, visit us in Toledo, OH at 5465 Enterprise Boulevard or call us at (419) 242-5568.