Which Roofing Material is Best for Your Home
Replacing or choosing a new sloped roof can be an expensive project. Before choosing roofing materials, it's a good idea to learn about the various material options, costs, fire ratings, durability and longevity considerations.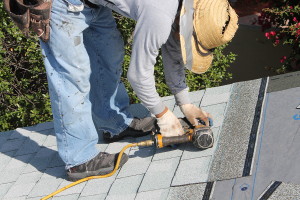 Costs
The costs for construction materials can vary significantly. Listed below are average costs based per square (100 square feet), which do not include installation. Labor costs in Toledo OH and many other regions are affected by the complexity of the job, steepness and the height of the home.
• Asphalt-fiberglass $125
• Clay tiles $210
• Wood shingles $180
• Steel $500
Appearance and Style
Whatever types of materials you choose should match or complement the color, style and exterior finish of your home.
Types of Roofing Materials
Asphalt Shingles
Asphalt or composition shingles are the least expensive to purchase and install. These are lightweight and come in a variety of colors, textures and qualities. They typically last for about 20 years and fire ratings run from A-C depending upon the quality of the shingle.
Metal Roofs
Metal roofs are frequently constructed from aluminum or steel. They can be purchased in shingle-like sections or large panels. The lifespan runs from 20 to about 50 years.
They are resistant to mildew, rot, insects and fire. The metal construction retains heat during summer months. Unfortunately, they can also be dented from hailstorms and can be noisy during rainstorms. The average fire rating is A.
Clay and Concrete Tiles
Clay tile roofs can add a tremendous amount of weight to a home and the tiles frequently break. However, clay tiles can also increase the beauty of a home with the right architectural styling.
Concrete tiles are another option that have the appearance of clay tiles. They are very lightweight compared to clay tiles. Both types of tiles normally last about 50 years and have fire ratings of Class A.
Wood Shingles/Shakes
These are lightweight and easy to work with and install. Wood shingles last for approximately 15-25 years, while shakes may last for 50 years.
It is highly recommended that both types are specially treated with fire retardants to reduce fire danger. These do not qualify for fire ratings.
Fire Ratings
Roofing materials and the sheathing installed beneath them are assigned fire ratings of Class A, B or C.
• Class A Rating. This is the best rating possible. Materials in this class are considered to be the most effective when exposed to fire.
• Class B Rating. Roofs constructed with materials rated as Class B will not catch on fire under moderate fire conditions.
• Class C Rating. This is the lowest rating possible. Materials with this rating can only withstand very minor exposure to fires.
Durability and Longevity
When replacing a roof, you will want to consider the costs, how long the roof will last and how long you are planning to stay in the home.
It is also a good idea to speak with your Toledo OH insurance agent before researching materials. Your agent may have specific requirements that could affect your choices.
Call All-Nu Construction today and start the process of remodeling, renovating and improving your home. Find us online at www.all-nuconstruction.com/, visit us in Toledo, OH at 5465 Enterprise Boulevard or call us at (419) 242-5568.