Things to Consider When Planning Your Kitchen Renovation Project
A kitchen renovation project can be exciting, but like any house renovation or home improvement project, it can easily become overwhelming. There are so many considerations to face and the project can get as big or small as you want it to – or have the budget to do. When you plan your kitchen renovation, it's best to solidify the basics before moving onto the design.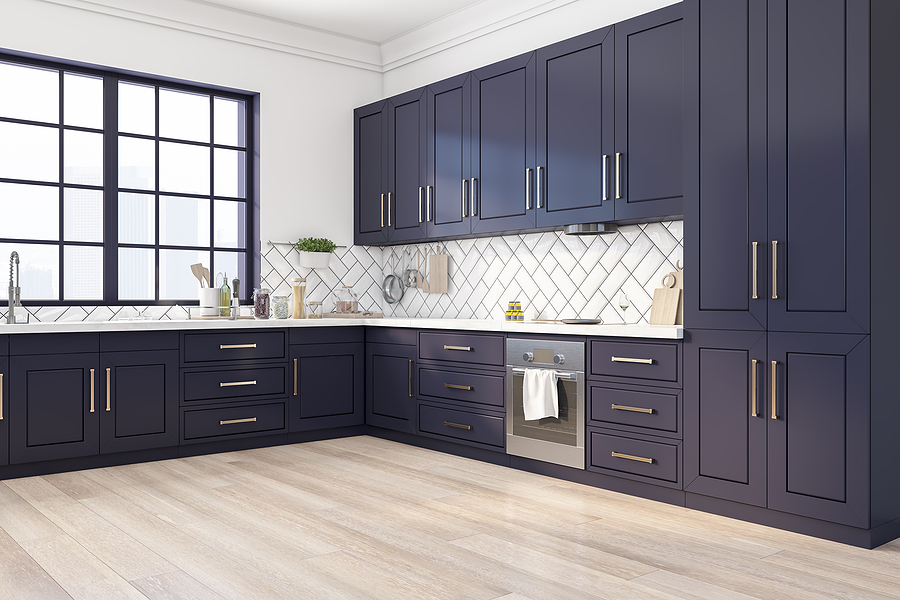 Making Home Improvement About Improving Your Functionality
The kitchen is the central location of most homes, and it's important to work the design around the functional workspace. You want to have plenty of seating, storage, and prep space. Consider the flow. Do you want space for a table, or will an island with stools meet your needs? Think about how you move around the kitchen when you cook. Where are the "congested" areas where you bump into each other and how can you improve them to give everyone space to work? What kind of flooring will work best with the traffic your kitchen gets on a regular basis? Does the lighting need to be improved? Start with functional improvements before you dive into design.
Design Ideas for a Kitchen Renovation
Once you have the ideas for the layout and functionality of your kitchen renovation, you can start moving onto the design and give your kitchen a fresh look.
Flooring – tile floor is classic, but can feel cold underfoot. Consider adding in-floor heating, or going with a laminate tile that can mimic a hardwood floor for more warmth.
Cabinets – open shelving is trending, but if you have a lot to store and worry about your space looking cluttered, you can design your cabinets to maximize your space and organization. Whatever style of cabinets you go with, adding upscale hardware can make any style feel high-end.
Countertops – marble and granite are classic and durable, but quartz is trending right now, and for great reason. Engineered stone is durable, attractive, doesn't scratch or stain easily, can withstand high heat, and is easy to clean. It's both practical and beautiful.
Backsplash – a backsplash is a great way to add personality with a pop of colored glass tile or to add sophistication with a marble mosaic.
Lighting – your kitchen should be well lit. If you don't have enough natural light, you can easily remedy that with a variety of styles. Under-cabinet lighting is a great way to add light in a beautiful way.
Planning for Any House Renovation
When you are planning any sort of house renovation, but specifically for your kitchen, it's important to consider the big concerns: budget, timing, and contractor.
Without a solid plan for your budget, you may find yourself overspending – by a lot. There are so many options for a kitchen renovation that it's easy to go overboard, and even if you don't go overboard, you may not think of the costs that go into certain projects. Adding an island with a sink and workspace seems like an easy idea until you consider the electrical and plumbing costs that come with that kind of upgrade. Whenever you make a big change to the footprint, you're adding to the bottom line. Make sure you have a firm number with some contingency budget factored in, and communicate that to your contractor.
When you renovate a kitchen, you're going to lose access for a little while. It's inconvenient, but it isn't the end of the world if you can plan for it. Talk to your contractor about best and worst cases for how long your project will take, and if you have any events coming up when you absolutely can't be without a kitchen (if you're, say, hosting Thanksgiving), make sure you talk to your contractor and schedule your project accordingly with plenty of time to spare.
The success of your kitchen renovation – or any house renovation – comes down to your contractor. When you are planning your home improvement project, make sure that you meet with several contractors and choose one who communicates well and has a reputation about coming in on time and within budget.
Planning for any home improvement project takes a lot of forethought, but when you are doing a kitchen renovation, there is even more to consider. Starting with the basics, moving to function, and finishing up with design is the smartest way to ensure that you get what you need as well as what you want. We've been creating beautiful new kitchens for homeowners in this community for years, and we can help you turn your outdated, cramped kitchen into a functional, updated, attractive space you and your family will enjoy. Contact All-Nu Construction to schedule a consultation.