There are Many Things to Consider When Choosing Bathroom Flooring
The best bathroom designs are those that balance style with function. A beautiful bathroom can feel like an oasis, but it is also a high-use room that needs to be able to stand up to traffic. Choosing a flooring option for your bathroom remodel should balance the look you want to achieve with the practicality of a floor that can stand up to moisture, kids, pets, and other messes that are inevitable in the bathroom.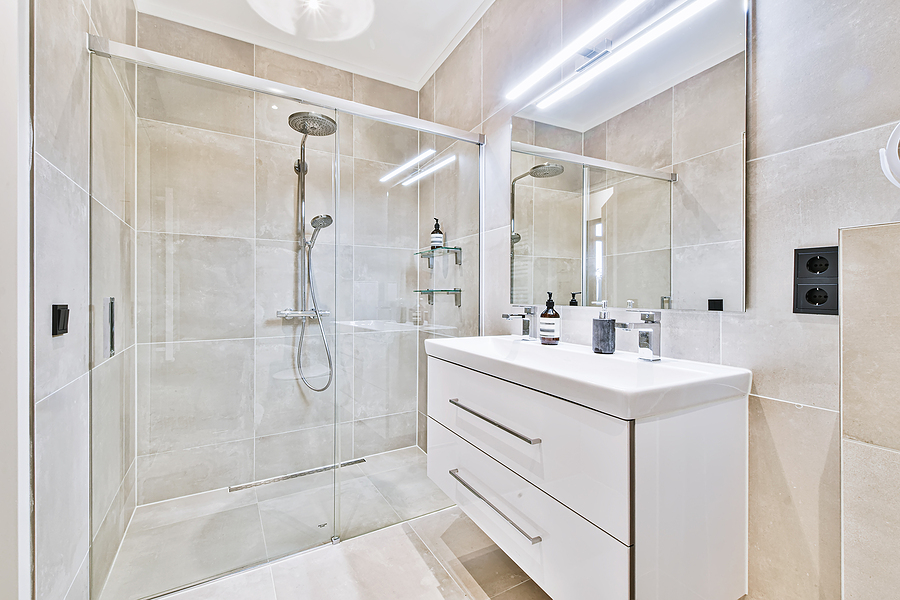 What to Look for in Flooring Options
When looking for a bathroom flooring option, you essentially want to consider three basic things:
This includes how waterproof the flooring option you are looking at is. While there are some gorgeous floors out there, if they can't stand up to moisture, they don't belong in the bathroom. Some flooring options market themselves as "water resistant", but this does not mean waterproof. Make sure you know what you are choosing.
Bathrooms need to be cleaned often, so choosing a floor that is easy to maintain is key. Regular sweeping and mopping is a given, but if you choose a flooring option that needs more maintenance, make sure you are prepared to keep up.
Some bathroom flooring options feel much colder than others on your feet. If installing radiant heat isn't an option and you want a warmer feel, certain flooring might not be the best choice.
Best Flooring Options for Bathroom Designs
Bathroom flooring has evolved considerably from years ago. There are plenty of options to choose from. Since bathrooms tend to be smaller, choosing a high-quality flooring material has less budget impact and provides a fresh new look. Some of the options include:
Vinyl is a waterproof option that can be styled in many ways. Vinyl can be simple or designed to look like higher end flooring. Vinyl feels comfortable to walk on and can be installed over existing flooring, which is a major contribution in making it budget friendly. Vinyl can be designed to look like wood, stone, or tiles. However, if it is not installed well, it can look cheap, so professional installation is always the way to go. Vinyl is also not as long-lasting as other materials, so it will likely need to be replaced at some point.
Ceramic or Porcelain Tile
There are many tile styles to choose from, and tile is durable, waterproof, and stain resistant. You can find an option that fits any style, and tile can even mimic the look of wood. Tile is very easy to clean and maintain. There are many different price points, making tile more budget friendly than previously considered. However, tile can be very difficult to install, so finding an experienced professional is very important.
Linoleum is often considered a traditional, even old-fashioned choice, but today's styles are making it an attractive and modern one. It has many of the same benefits of vinyl, is impervious to water, and can be very stylish while remaining budget friendly.
While traditional hardwood is definitely not bathroom friendly, engineered hardwood, made of multiple layers with a veneer top, can hold up to the high humidity and moisture in a bathroom. The drawback to using engineered hardwood is that it is more expensive, and while it is water resistant, it is not waterproof. If there is a leak or water is allowed to sit on the floor, engineered hardwood can be damaged and is expensive to repair.
Stone is high maintenance and expensive, but it will give your bathroom a very high-end look. If you choose stone, understand that it requires regular cleaning and sealing. Concrete is a trendier look in modern designs. Although not a traditional option, concrete can be polished and sealed for use in a bathroom. One of the benefits of concrete is that once it's installed, it is very easy to maintain.
With so many functional and beautiful flooring options to consider, it can be hard to decide which is best! Look closely at your budget, style, and maintenance style to find the floor that is right for you. Every homeowner considering a bathroom remodel should think through all the factors. Talking to a professional can help you decide on the best flooring for your home. If you're planning on renovating your bathroom soon, contact All-Nu Construction to learn more about how we can help.