Skylight Installation and Your Contractor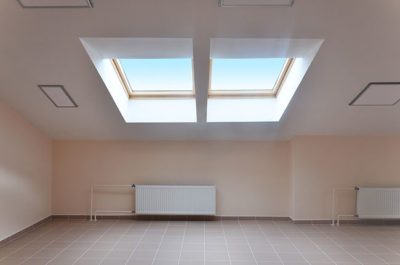 Skylights offer a wide variety of benefits to a home. These add-ons allow for far more natural light to enter a room than a traditional window alone and also make the room seem much larger than it actually is. Here is a quick rundown on how a skylight is installed and what a homeowner should expect from the process and the contractor doing the job:
Skylight Installation Process
For a professional construction company, a skylight installation is a fairly straightforward project. If no unforeseen problems arise, it generally entail three distinct phases;
Roof penetration –

The first step in the installation process is to identify the precise area where the skylight will be located. Normally a pilot hole is drilled and then a much larger circular is cut. Then the final opening is cut to size. Finally, the extraneous material is removed and any electrical or plumbing lines that may block the opening are relocated.

Installation of the appliance –

First, the perimeter of the installation area will be thoroughly cleaned and otherwise prepared for the next step.Then the skylight will be properly braced and seated in the opening. Next, the electrical control system will be wired and located in a convenient spot in the space. At some point, the interior finishes will have to be plastered and painted.

Sealing of the exterior joints – Skylights do pose a hazard to a home's interior if they are not properly sealed. Typically, they will have several barriers to water, insects and other natural intruders. Commercial adhesives and screws will keep out anything large while flashing and caulking will seal the joint against rain and insects.
What to Expect From the Contractor
Accurate estimate –

When it comes to a reputable contractor, you can judge a book by its cover. That is, the most obvious things do matter. Arriving on time for the initial appointment, being appropriately dressed and delivering an accurate quote all mean that the contractor takes his job seriously. If these basics parameters are ignored by your contractor, immediately look for another one.

On-time completion –

The installation of a skylight can be a serious imposition on a household especially if it is placed in a kitchen – the hub of the home. The best contractors will give you a definite timeline for completion and even offer a discount in the event that they cannot meet the deadline.

No cost increases other than change orders –

The most experienced contractors have "seen it all and done it all." This fact means that their estimate should take into account every conceivable eventuality except for a homeowner's change of mind. Just FYI, avoid change orders at all costs because they can significantly increase the overall cost of your project.

Thorough clean up –

The best contractors will erect physical barriers to keep dust and other debris from contaminated areas other than the installation site. In addition, they will always place paper floor mats and other items to keep dirt from being tracked into the house. In short, the goal is to leave your home looking just as neat and clean after the installation as it did before.

Disposal of debris –

One of the customer service tiebreakers of a superior contractor is to leave their customer with no work to do after the completion of the skylight installation. The disposal of all installation debris is key to accomplishing this goal.
Homeowners who would like further information on the design and installation of skylights should visit us online at All-NuConstruction.com or reach us directly at 419.242.5568.