Which Roofing Material Can Help You Save the Most on Energy Bills
Choosing and installing the right roofing materials for your local climate can add significant value to your home. In fact, this is one of the best forms of sweat equity that you can invest in. Not only will it increase the future sales price of your property, but it can additionally limit your overhead costs by lowering your energy bills. With the right roof design, your home heating and cooling won't have to work as hard to establish comfortable temperatures indoors. The following are several options in roofing materials that are definitely worth further consideration.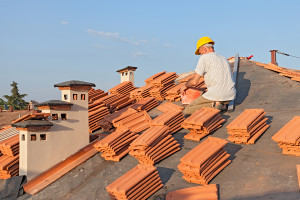 Converting To A Cool Roof
Rather than planning a total tear-down and roof replacement, you can use innovative, cool roof materials to retrofit your current roof structure. This is ideal for homeowners who have fully-functional roofs but simply want more efficiency. It entails the addition of specialized heat and light-reflective materials and possibly recovering the roof with waterproof coatings such as tile. Cool roofs absorb less heat by reflecting sunlight, thereby making it easy to maintain comfortable temperatures in perpetually hot locations.
Cool Roof Coatings
There are also a number of cool roof coatings that make the process of converting an existing roof into a cool roof much easier and far more cost-effective. One simple change that consumers can make is to switch out asphalt or tile shingles for lighter-colored versions that will absorb less heat. Sheets of PVC membranes that are fiber-reinforced are another cool roof coating option. These are low-cost, lightweight and perfect for flat-top roofs.
Green Roofs
Toledo OH residents who want to lower their carbon footprints by designing environmentally-efficient homes can also consider the various options in green roofs. These surfaces are perfect for shallow-pit or flat roofs. They entail the installation of basic plant cover or more ornate rooftop gardens. They create more usable space and allow for the efficient management of storm water. Given that heat and light will be absorbed and used by the rooftop foliage, less heat will be taken into the home.
Metal Roofs
If you are planning a total roof replacement, you should ask your installer about the benefits of metal roofs. Depending upon the type of metal you choose, this can also be the most cost-effective solution available. Metal roofs are commonly recommended in warm weather regions given that they do not absorb and retain heat like other materials do. They are also lightweight, malleable and flexible enough to accommodate a broad range of design ideas.
Tile Roofs For Cold Weather
Tile roofs are ideal for homeowners who are also interested in trapping heat in the home. Clay tiles are best-suited to areas with warm weather given that they do not fare well under snow and hail. Concrete tiles are far sturdier and can stand up to the elements in almost any region.
The first step in establishing an energy-efficient roof design is to align yourself with a reputable Toledo OH roofer. This professional will have a keen understanding of the local climate challenges and the best materials for overcoming these. With this help, you can choose the right material or combinations of materials for creating a comfortable and energy-efficient roof design for your home.
Call All-Nu Construction today and start the process of remodeling, renovating and improving your home. Find us online at www.all-nuconstruction.com/, visit us in Toledo, OH at 5465 Enterprise Boulevard or call us at (419) 242-5568.