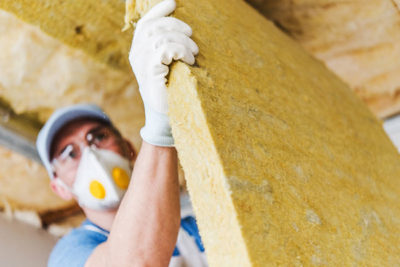 After several years, your roof will start showing signs of wear and tear. This could lead to uncomfortable conditions in the house due to improper heat flow. To fix this, you can opt for a roof replacement or insulation. The former is usually an expensive project and presents many risks. This leaves roofing insulation as the viable option. Proper roof insulation offers an affordable way of improving your house.
Choosing a Trustworthy Contractor
The roof is an important part of any house. Keeping that idea in mind will help you to make an informed decision when choosing a roofing contractor. Take your time to check through the different services that each contractor offers. Any contractor that you would choose to insulate your roof should not only ooze professionalism, but also be a registered member of a recognized construction-related organization.
Trustworthy roofing contractors have the expertise and experience to handle any type of roof. Such professional roof insulators settle at nothing less than the best when delivering their services. Unsatisfactory and low-quality roof remodeling usually involve unqualified contractors. Unfortunately, many homeowners tend to settle for cheap roof insulation contractors. Poor quality insulation projects pose the risk of destabilizing your roof, which will prompt you to opt for an expensive replacement project.
Experienced and reliable contractors also engage clients during the roof insulation project. The approach leads to good working relationships with clients. In so doing, these experts will ensure your project is a success.
Proper but Affordable Roofing Insulation
In many cases, most homeowners associate professional and high-quality roofing services with huge costs. However, that is not always the case with all professional and reliable contractors. While working on a tight budget, you can still approach an experienced roofing firm. The firm will gladly give you free estimates for your project. Not only will you find out the amount of money the insulation project will require, but the rates will also be competitive.
Having handled the issue of the expenditure, the next important aspect of the project will be the insulation. Experienced contractors will ensure they carry out a proper insulation project for you to make your house comfortable and energy efficient. Some of the installation materials include the following:
Spray form

Fiberglass batts

Seaweed
It is worth noting that insulation involves trapping air particles between two layers. In this case, a proper insulation will allow a 2-inch gap between the top side of the insulation material and the underside of the roof.
The 2 inches of airspace act as an effective barrier against heat transfer into or out of the house. Such effectiveness of the insulated roof in resisting heat transfer refers to its R-value. A high R-value would mean minimal heat loss, hence less need to power on the air conditioner. In turn, it leads to low energy bills on top of a comfortable house both in the summer and in winter.
Proper Ventilation
Appropriate roof insulation goes along with proper ventilation. The latter will allow a seamless flow of air into and out of the house. Just to mention a couple of vents and the contractor can install soffit vents that work well in conjunction with continuous ridge vents. Soffit vents vary in size and styles but each can ventilate all the rafter bays. The vents increase airflow by allowing air into the attic at the lowest side of the roof.
If you need any of the highlighted high-quality roofing insulation services, you have to hire the right contractor. Contact All-Nu Construction right now for further details.