How to Choose the Right Design for Your New Kitchen Renovation
The kitchen is arguably the most important space in your home — especially if you spend a lot of time preparing meals every day. It should be easy to keep clean and organized, and it should be comfortable to move around in. If you find that your kitchen is frustrating to use and keep clean, then it may be in need of a renovation. Not only can remodeling your kitchen improve its function (as well as its overall aesthetic), but it can add to the value of your home.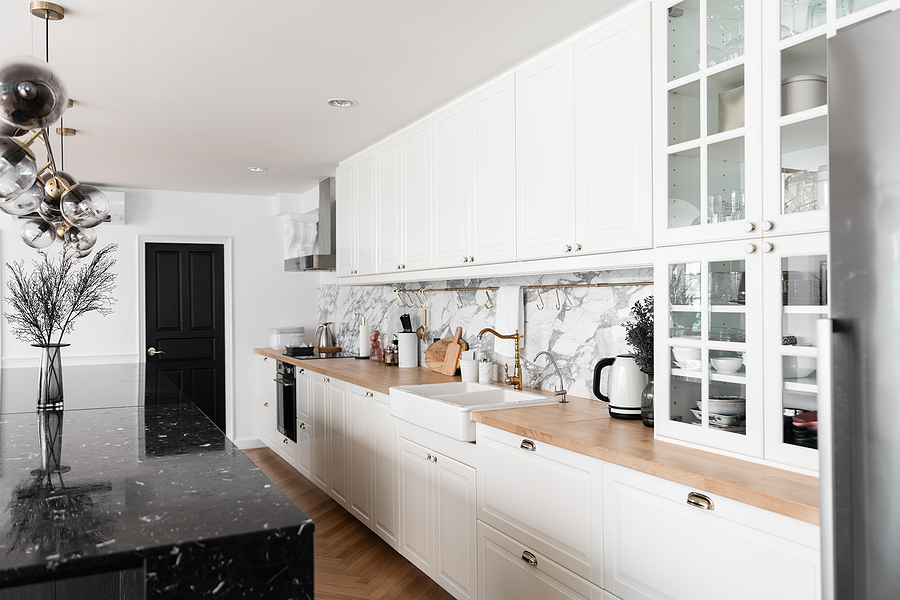 Kitchen renovations are widely regarded as one of the most valuable home improvements in terms of return on investment (ROI). According to Zillow, a minor kitchen remodel results in roughly 81.1 percent ROI, although this does vary based on where you live and the exact renovations you invest in. With that in mind, the following are a few ideas to help inspire your new kitchen renovation:
1. Improve Your Lighting
A lot of homes don't have enough lighting in the kitchen. If the only light source in your kitchen is a central ceiling light, it's not going to be enough. Not only should you add task lighting to make meal prep easier (and safer), but improving the lighting will brighten up the space and help highlight the beauty of your kitchen. If you have a kitchen island or breakfast nook, hang pendant lights over them. Then add LED lighting underneath your upper cabinets to light up your counters so your shadow doesn't get in the way of meal prep.
2. Install a Kitchen Island
If you don't have a lot of counter space, but you do have plenty of general space in the kitchen, consider installing a kitchen island. Doing so can double the function of your kitchen. Not only can it add more space for meal prep and storage, but it can also serve as a kitchen dining area. Not to mention that larger islands can be outfitted with additional appliances.
3. Reface or Replace Your Cabinets
Cabinets are crucial to your ability to keep your kitchen organized. If you don't have enough cabinet space, you'll end up using your counters for storage and your kitchen will become cluttered and messy. If you need more storage space and have space available in the kitchen, consider installing more cabinets. If your cabinets stop short of the ceiling, consider replacing them with cabinets that go all the way up to the ceiling for added storage. If you have plenty of storage but your cabinets are an eyesore, consider refacing them to improve your kitchen's visual aesthetic.
4. Install New Countertops
A new countertop can have an enormous impact on the overall kitchen design. Choose a countertop material that matches the visual aesthetic of your space and one that will withstand wear and tear over time. Granite is one of the most popular countertop choices in this regard.
5. Upgrade Kitchen Appliances
How old are your kitchen appliances? The older they are, the more likely it is that they need to be replaced sooner rather than later. Older appliances, whether it's your oven, fridge, or dishwasher, tend to be way less efficient than newer models. By upgrading your appliances, you'll improve the energy efficiency and water efficiency of your kitchen, which can save a significant amount of money on your utility bills over time. Not to mention that newer models have more features as well, thereby boosting your kitchen's functionality.
If you're thinking about renovating your kitchen, these are a few ideas to help you get started. For more kitchen remodeling advice or to request a free estimate, be sure to contact us at All-Nu Construction in Toledo, OH today.