Details On How to Identify Hail Damage On Your Roof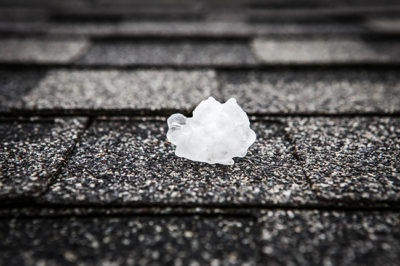 After experiencing a
large storm
, it's important to assess the damage done to your property. Hailstorms are destructive but the damage caused might vary. It depends on wind velocity, building materials, barriers, hail size and density.
Quick Inspection Tricks From the Ground
When hail falls, it might hit the gutter corners. If you realize dents on your previous straight gutters, it may be due to the hail impact.
You may also want to check areas such as your downspouts, mailboxes, windows, and frames.
Look for dents or creases to the metal or chipping wood around frames.
A telltale sign that your roof is damaged is if you see shingles on the ground. Make sure to visually inspect the ground area around your property for other signs of damage to outdoor furniture and garage doors.
Look up and check the underside of your gutters and downspouts from the ground as well. Making sure to get a complete picture of the damage to your home.
Things to check in the house
Sometimes the hails may be strong enough to cause roof leakage. Before you climb up the roof, check for water leakage in the house. Check the ceiling; you might notice some water stains.
Be careful when investigating this leakage as it might happen in areas that you might not think doubt. For example, closets and attic rafters.
Safety
A roof inspection can turn dangerous; therefore wearing proper safety gear is a must.
Wear a pair of sturdy boots which are soft-soled. They avoid sliding which can be fatal.
Make sure to follow proper safety guidelines when climbing and coming down off a ladder.
Finally, carry some chalks to mark the areas of damage to avoid confusion and have a planned and orderly inspection.
Roof checking
When you get to the roof, there are many areas to check. Some damage might be unable to detect with an untrained eye, this is why a professional roof inspection after a large hail storm is best if you are concerned about damage.
However, here are some things you can look for.
Gutter deformation
Shingle Granules Collection in the Gutter
Cracks in Skylights
Missing Shingles
Check On Exterior AC or Roof Vents Damages
Your home is too important to leave to chance. If you are concerned about hail damage to your property after a storm, contact the roofing experts at All-Nu Construction. They can come out and inspect your roof and home for any damage related to the storm, leaving you with peace of mind.