Create a Relaxing Retreat with a Bedroom Remodel
Your bedroom should be your oasis from the stresses of life. The primary bedroom – once called the master bedroom – can be designed and remodeled in a way to make the room feel luxurious, spacious, and relaxing. To get the perfect relaxing retreat, you will need more than a coat of paint and new linens, but your home remodeling contractor can talk to you about your vision and work with you to make that vision come to life.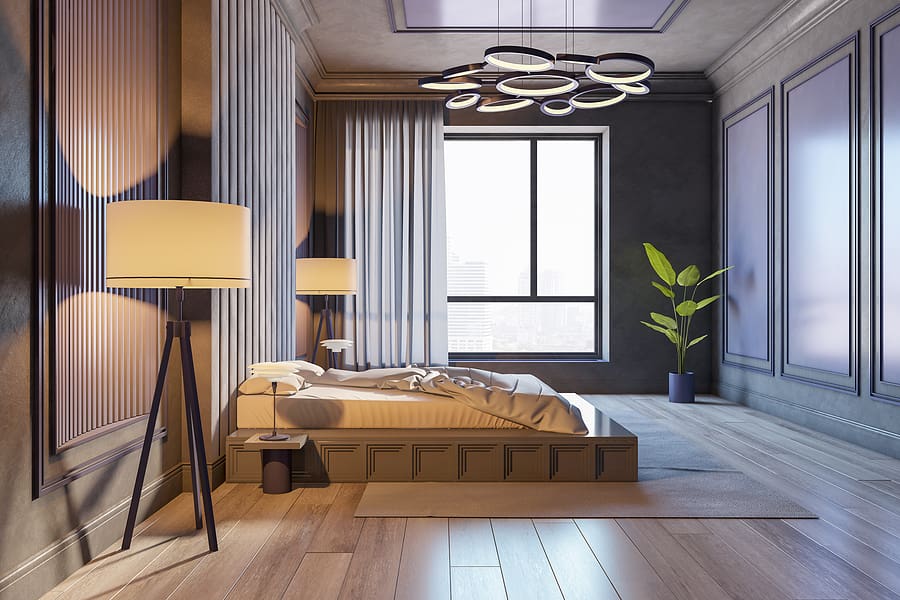 Add More Windows to Maximize Natural Light
Older homes can feel closed off, making for dark spaces and dreary bedrooms. While adding more lighting to a room is always an option, adding natural light will make the room feel more open, spacious, and luxurious. When you are considering your bedroom remodeling project, look at all the options for adding natural light. Often, there will be plenty of exterior wall space to add additional windows. Larger windows than the standard builder grade options will not only flood the room with natural light, but will make the room feel high-end and custom. Many homeowners looking to increase the natural light will also look up. Adding a vaulted ceiling with a skylight will make a huge difference in the overall feel of the space. Your contractor can help you determine the best places to add additional windows.
New Flooring Can Revitalize a Dated Space
If your home was built at the end of the twentieth century, the flooring probably reflects the style of that time, which can make a room look dated. Wall-to-wall carpeting in the style of the 80s and 90s doesn't only look dated, but can be difficult to clean and maintain as it will often trap dirt, dust, and allergens. However, this doesn't mean that you have to rule out carpet entirely. Modern carpet choices with a subtle shimmer can add luxury and warmth to the space while keeping your room modern. Natural and light colors are the best options to prevent the floors from making the room feel dark and closed in.
For those who aren't enthusiastic about carpet, wood flooring is still a top choice for nearly every room, including primary bedrooms. Wood flooring can be designed in different patterns and with different grains for a higher interest look. While natural wood is still popular, engineered hardwood has been a very popular choice for its high durability and ease of maintenance. Laminate and vinyl designs can mimic the look of hardwood, will go with nearly every bedroom design and furniture, and are easy to maintain.
Turn Your Primary Bedroom into a Primary Suite
There is nothing more luxurious for a primary bedroom than increasing the space and turning the room into a primary suite. While adding on to the home may not be possible, it is possible to reclaim space from other rooms to allow room for an ensuite bathroom, expanded or additional closets, a dressing area, a sitting area, or a reading nook. By merging two smaller spaces, moving walls, and creating distinctions, a room can be expanded, although it will take the help of an experienced team.
When making decisions for how and what to add to the primary bedroom, consider how you have always envisioned using the space. If you've always wanted a closet with a dressing area, you may be able to enlarge an existing closet by claiming space from the bedroom itself. If you are close to a bathroom, but the bathroom is not considered an ensuite, you can "move" the primary bathroom into the primary bedroom by moving walls. If you are hoping for a reading nook or sitting area, an unused (or underused) closet may be the place to gain that space. Some homeowners have turned the primary bedroom into a primary suite by completely claiming another unused bedroom by moving walls and redirecting the flow of the space. When you are ready to turn your primary bedroom into a primary suite, your contractor can help show you what is possible.
Anything is Possible with the Right Team
The most important part of a major primary bedroom renovation is finding the right team to execute your vision. Finding a contractor who can work with you on your vision, particularly if your vision requires substantial work, can be difficult. When you begin your search for a contractor, talk to them about what your ideal finished space will look like, allow them to explore the current space and footprint, and work together with them to design the perfect space for you and your family. Often, contractors will be able to work with design teams or have design teams on staff who can help with this stage of the process. A good place to start is to look at websites of different contractors to search for project portfolios. Knowing what different homeowners have done, from the existing space to the finished space, can help you determine exactly what your vision is and what your contractor is capable of executing. Having everyone on the same page from the very beginning will ensure that the final room is what you are looking for.
When your primary bedroom has been designed for exactly how you want to use it, you will often relax simply by walking into your own, personal retreat. When you have the perfect closet and dressing area, an ensuite bathroom, space to use the room as you please, and plenty of natural light, you will always feel like you have the perfect place to unwind. To learn more about how we can turn your bedroom into a relaxing retreat, contact All-Nu Construction today.