The Benefits of Hiring Certified Roofing Contractors
Most homeowners procrastinate on making roofing repairs. Many think that if they can get their roof to hold out just one more year, they will be able to save thousands of dollars and use that money to cover other expenses or to cover other repairs around the house. While in the short term this may produce results, in the long-term, procrastinating on roof repairs or roof replacements can lead to expensive structural repair in the home. For this reason, it is better to be proactive when it comes to roof repair and maintenance.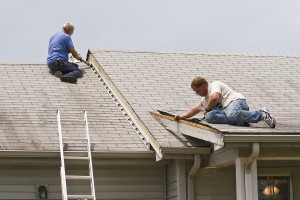 Roof repair should not be left up to just anyone. Wise homeowners will only use certified roofing contractors who have years of experience behind them and have developed a good reputation in the roofing community.
Certified Toledo Roofing Contractors Know Roofing Materials
One of the benefits of hiring a certified Toledo roofing contractor is that they know roofs and roofing material. They can examine the condition of your current roof and determine if minor repairs are needed or if the time has come to do a complete tear off and rebuild the roof. If the decision is to rebuild the roof, they will be able to offer detailed information about the roofing materials you should use.
Many homeowners are unaware of the abundance of roofing materials that are on the market today. Asphalt shingles are among the most popular roofing material. They are relatively inexpensive, lightweight, durable, and provide moderate to good protection against the weather and sun. A certified Toledo roofing contractor will be able to examine your roof structure to see if this building material is right for you.
Another option that is available is metal roofing tiles. Metal is extremely durable. Depending on the metal used, it can help warm the house during the winter as well as melt snow that has collected on the roof. Metal tiles do not work with every single roofing style, and a certified contractor will know if metal tiles are right for your roof.
These are just a few examples illustrating the difference in roofing materials that are available. A certified Toledo OH contractor will know the right flashings, roof decking, leak barriers, ice shields, and ridge shields to use for your roof and for your area. Their goal is to make your home's roof durable while at the same time aesthetically appealing.
Certified Contractors Use Reliable Techniques
A licensed contractor will install roofing material according to local and state building codes. In most areas, it is required to install a synthetic underlayment that will serve as a waterproofing barrier. If this barrier is not installed properly, water will filtrate through the roof decking and eventually lead to mold growth in the attic. Additionally, if shingles are not applied correctly and if there is not sufficient overlap, during violent rainstorms they might rip off the roof. Certified contractors understand the techniques used in shingle application.
Certified contractors guarantee and warranty their work. They have built a reputation for excellence, and so they are diligent when it comes to supervising their workers to make sure that they do the work on your roof in the most efficient and professional way.
The roof on your home is one of the most important investments you will ever make. Don't leave your roof in the hands of amateurs. Make sure that only certified Toledo OH roofing contractors work for you.
Call All-Nu Construction today and start the process of remodeling, renovating and improving your home. Find us online at www.all-nuconstruction.com/, visit us in Toledo, OH at 5465 Enterprise Boulevard or call us at (419) 242-5568.