The Benefits of Installing Vinyl Siding on Your Home
One of the most popular home siding materials today in Toledo OH is
vinyl siding
. According to the U.S. Census Bureau, over 32 percent of all new homes built use vinyl material for their siding. This is more than any other type of siding material. It appears this trend will continue long into the future. The quality of this siding has improved quite a bit since it started being produced during the 1950s. This has led to an impressive growth in the use of vinyl by homeowners choosing siding material.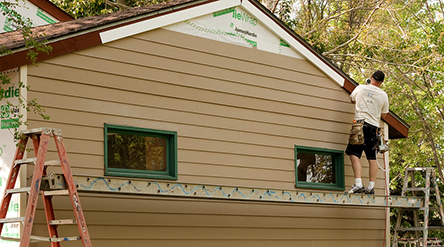 Advantages
People who use this type of siding discover it is resilient and lasts for a number of years. It is able to withstand the outside elements and the wear and tear this can cause on siding. This material is able to endure the most challenging weather climates. This siding will not rot, crack or warp. It is able to retain its new appearance for a long time. Maintaining this type of siding can be done by simply using soap and water.
Provides Options
People who want this type of siding will be able to choose from a number of textures, colors, architectural trim and more. This type of siding is able to mimic the look of different architectural accents like slate, wood or stone. It has been made to compliment the best features of a variety of home styles. This means a homeowner will not have to compromise when trying to increase the appeal of their house.
Durable
This type of siding is able to withstand intense heat, cold, moisture, high winds and more. While doing this, it will be able to maintain its original appearance as well as performance capabilities. Homes in Toledo OH with this type of siding have been able to handle wind at speeds of over 20 mph. Most manufacturers offer lifetime warranties combined with the installation.
Installation
Vinyl siding is one of the most lightweight sidings as well as one of the simplest exterior sidings to install. It is able to be installed over existing materials. This makes it an excellent choice for retrofitting a home. Since it is easy to install, this siding will save the customer on labor costs. A professional will know how to install it using procedures required by the vinyl siding Installation Manual.
Environmentally Friendly
This type of siding is known for contributing to a home's energy efficiency. It is designed to keep outside air from going inside any home located in Toledo OH. This will result in a saving in energy costs. It is also an excellent green option. This type of siding outperforms other types such as brick when it comes to life cycle stages. It is able to decrease thermal bridging. It has also been included as a material able to meet requirements for an ENERGY STAR® home.
Resale Value
This type of siding will increase the appeal of a home. This is one thing that can attract individuals looking to purchase a house. It has been known to provide an old home with a fresh new look.
Call All-Nu Construction today and start the process of remodeling, renovating and improving your home. Find us online at www.all-nuconstruction.com/, visit us in Toledo, OH at 5465 Enterprise Boulevard or call us at (419) 242-5568.